By Nazrul Islam
Every success has a few background stories. The key motivation to participate in the "Create-a-thon" comes from my supervisor, Dr. Kelly Vodden. As a graduate student of Environmental Policy Institute (EPI) I am always interested to do research on sustainable development. So, my supervisor advised me to consider focusing my research on alternative energy and regional development. In the meantime, we found information that a district hot water energy project had been proposed within the city of Corner Brook, which could provide a new source for low-cost alternative energy. I decided to find out how we might be able to utilize this alternative energy for sustainable economic development. At the same time, my supervisor forwarded an email about the 'Create-a-thon' competition being organized by GOEngagement and motivated me to join this program. According to her instruction I developed and presented a business idea on recycling heat energy and hydroponic greenhouse.
Initially there were 12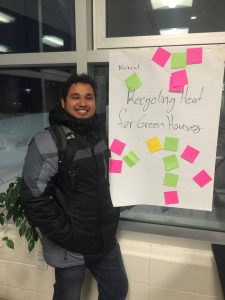 different entrepreneurship ideas presented and from them a panel of judges selected six of the best ideas based on the audience's view. After that two undergrad students, Dennis Wass and Lynn Drover, and another graduate student, Liqiu (Sophie) Zhang, joined with me to organize our ideas. We concentrated on issues including food insecurity, health and unemployment that currently the city (Corner Brook) is facing, and further developed our idea for how the recycling hot water could be used to operating hydroponic greenhouse.  We believed that with proper installation and maintenance a hydroponic greenhouse would reduce food insecurity significantly and also provide fresh vegetables year round. Finally, my team member Dennis Wass delivered the presentation of our future entrepreneurship project to an audience and panel of judges and our idea was selected for top prize. Third prize also went to MAEP student Michelle Gosse and her team, including Corner Brook residents Nancy Buckle and Julia Allingham, and PhD student Brennan Lowery. I am really grateful to my research supervisor Dr. Kelly Vodden for her motivation and valuable guidance and to all of my team members for their hard work and support.
Create-a-Thon organizers: